Emerging Leaders Program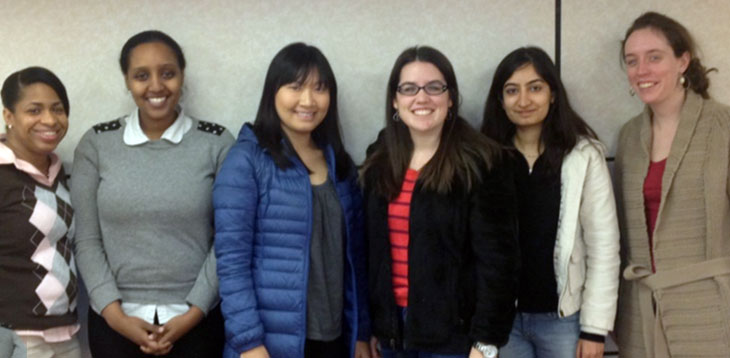 The Vital Village Emerging Leaders program is an educational pathway for graduate students interested in community engagement and community-based research. All students will engage in an externship opportunity as research associates paired with a community-based agency partner and a Boston University faculty mentor. Students focus on community-based participatory research, community engagement, or setting-level intervention evaluation and the students may receive credits towards their degree. Several group seminars are offered that will focus on advocacy, community engagement approaches, community-based research methods, and early life adversities and life course health and developmental trajectory.
Graduate students from all disciplines including medicine, public health, law, social sciences, and human services are encouraged to apply. Undergraduate students will be considered for summer opportunities.
For more information please contact: vitalvillage@bmc.org and include "Emerging Leaders Program" in the subject heading.
Emerging Leaders 2022
Talia Feldscher
MPH Candidate, Environmental Health, Boston University School of Public Health
Emerging Leaders 2021
Mayuri Jain
MPH Candidate,

Epidemiology & Biostatistics, and Environmental Health,

Boston University School of Public Health
Emerging Leaders 2020
Yeelin Bacchus
Undergraduate Research Opportunities Program Scholar, Boston University
Phoebe Co
Master's Degree Candidate, Harvard Graduate School of Education
Andrea Kuriyama
Health Science Practicum, Boston University
Julia Slayne
Summer Scholar, Bates College
Emerging Leaders 2019
Ishaan Shah
Civic Scholars Program, Washington University
Emerging Leaders 2018
Kiyoshi Hayashi
Holistic Health Coach, Institute of Integrative Nutrition
Emerging Leaders 2017
Shyam Desai
Medical Student, University of Connecticut School of Medicine
Akiesha Ortiz
Master's Degree Candidate, Harvard Graduate School of Education
Maclane Philips
Master's Degree Candidate, Harvard Graduate School of Education
Emerging Leaders 2016
Ayesha McAdams-Mahmoud, MPH
Doctoral Candidate, Social and Behavioral Sciences, Harvard T.H. Chan School of Public Health
Lindsay Schrier
Corcoran Center Fellowship, Boston College

Flora Traub, MS

Physician Assistant Student, Boston University Physician Assistant Program
Ying Wang
Master's Degree Candidate, Harvard Graduate School of Education
Emerging Leaders 2015
Chalatwan 'Jib' Chattrabhuti
Master's Degree Candidate, Harvard Graduate School of Education
Genevieve Guyol, MAT
Medical Student, Boston University School of Medicine
Anita Knopov
Medical Student, Boston University School of Medicine
Rachel E Porth
Social Justice Fellowship, Dartmouth College
Fiona Shea
Corcoran Center Fellowship, Boston College
Emerging Leaders 2014
Simone C. Ellis, MS
Medical Student, Boston University School of Medicine
Lauren Graber, MD
Family Medicine Resident, Department of Family Medicine, Boston Medical Center
Audrey Jackson
Master's Degree Candidate, Harvard Graduate School of Education Teacher, Boston Public Schools
Libby McClure, MPH
Doctoral Candidate, Department of Social & Behavioral Sciences, Harvard School of Public Health
Emerging Leaders 2013
Alyssa Bechtold, MPH
MPH Candidate, International Health, Boston University School of Public Health
Deeksha Dua, MD, MPH
MPH Candidate, Global Health and Epidemiology, Boston University School of Public Health
Erin Ennis, MPH
MPH Candidate, Public Health Law, Boston University School of Public Health
Milki Tilimo, MPH
MPH Candidate, Social & Behavioral Sciences, Boston University School of Public Health
Dimin Zhou, MPH
MPH Candidate, International Health, Boston University School of Public Health